Soothing Aloe Cleanser
150 ml (for normal-dry skin)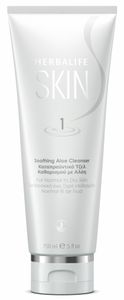 This gentle cleanser leaves your skin clear, soft and clean.
An aloe vera-based cleanser with a fresh and gentle scent. Perfect for normal to dry skin. Silky, soft lather gently removes excess oil, dirt and light makeup from the skin without irritation.
Overview
Aloe vera softens and moisturizes skin
Paraben-free and sulphate-free
Dermatologist tested
Exclusively formulated with: Vitamin B3, antioxidant vitamins C and E and aloe vera, coconut-derived cleansing ingredients
Details
Soothing Aloe Cleanser comes in a 150 ml tube, and is also available as part of our .
Related products

Herbalife SKIN Energizing Herbal Toner 50 ml
Aloe vera-infused, alcohol-free facial toner with Mandarin citrus scent provides hydration to your skin and refreshes tired-looking skin.

Herbalife SKIN Daily Glow Moisturizer
All-purpose hydrating lotion with illuminating properties to give your face a healthy glow. Skin looks radiant, even without makeup.