Instant Reveal Berry Scrub
120 ml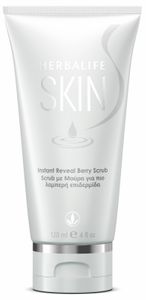 Antioxidant-rich scrub with berry seeds for exfoliation, which helps achieve soft, smooth skin.
Overview
Reveals healthier-looking skin
Fresh and fruity fragrance enlivens the senses
Suitable for all skin types
Paraben and sulfate free
Dermatologist tested
Formulated with...
Vitamin B3, antioxidant vitamins C and E, aloe vera, coconut-derived cleansing ingredients, exfoliating beads, blueberry seeds
Details
Instant Reveal Berry Scrub comes in a 120 ml tube, and is also available as part of our .
Related products

Herbalife SKIN Purifying Mint Clay Mask 120 ml
This rich, creamy clay mask has the absorbent and toning effects of bentonite clay to remove dirt and absorb excess oil.