N-R-G
Nature's Raw Guarana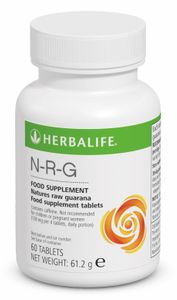 To reach your peak performance it helps to feel energetic when exercising. Guarana has for centuries been known for its invigorating quality, so it's perfect for sports people, looking for that little 'lift'!
Nature's Raw Guarana can provide a long lasting energetic feeling, whenever you feel you need it. No wonder it's been used for centuries for its spirited and refreshing properties.
Details
N-R-G is sold in pots of 60 tablets. Take two to four tablets each day as required as a herbal supplement.
Related products

Liftoff™ Effervescent Energy Drink
Convenient, delicious, individually-wrapped, effervescent energy drink. Just pop a tablet in a glass of water, and feel energised!

Instant Herbal Beverage with Green Tea Extract
A low-calorie drink combining herbal wisdom with modern-day ingenuity.

Thermo Complete® Herbal Tablets
Tablets formulated with green tea, cocoa and yerba mate extracts for complete shape-management.