Liftoff™
Effervescent Energy Drink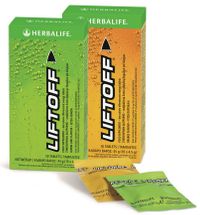 Do you sometimes feel as if you lack energy and need reviving? Liftoff™ effervescent tablets disolve in water to give you a reviving energy drink with caffine to help you stay alert and focused with improved concentration.
A blend of tourine, guarana, and caffine to help you stay alert and focused for improved concentration.
Delivers 100% RDA of B-vitamins.
Delivers 100% RDA vitamin C.
A nutritious low calorie drink with no added sugar; perfect for any lifestyle including those following a weight management programme.
Liftoff™ effervescent energy drink is convenient and easy to prepare, meaning you can experience energy anytime, anywhere!
Details
Liftoff™ is sold in boxes of 10 effervescent tablets, designed to be mixed in 250ml of water, and is available in two flavours:
Ignite-Me Orange
Lemon-Lime Blast
Product accessories

Herbalife Sports Bottle 750ml
A Herbalife branded 750ml sports bottle for water, Hydrate, Prolong, or (iced) tea.
Related products

N-R-G Nature's Raw Guarana
An energy supplement containing a mild form of caffine and guarana.

Instant Herbal Beverage with Green Tea Extract
A low-calorie drink combining herbal wisdom with modern-day ingenuity.