Tri Blend Select
Protein Shake Mix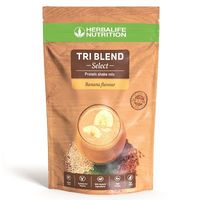 Tri Blend Select is a deliciously creamy protein shake offering you naturally sourced nutrition and great taste. With a unique combination of high quality wholefood ingredients, Tri Blend Select is also high in fibre and low in sugar.
We have carefully selected Pea, Quinoa and Organic Flax Seed as part of a premium vegan blend to deliver a complete protein source providing all essential amino acides, vitamin C, and 7 key minerals from natural sources. Nourish your body and delight your taste buds!
Background
Tri Blend Select is high in protein and low in sugar, with naturally-sourced and plant-based ingredients. We searched the planet to source the best possible grade of every single ingredient in Tri Blend Select, like Quinoa from Columbia and Flax Seed from Canada.
Plant proteins sometimes miss the mark because they lack some essential amino acids. However Tri Blend Select includes a blend of pea, quinoa and flax seed to help deliver a plant-based protein that's also impressively high in fibre while being low in sugar.
But low in sugar doesn't mean low on taste! In fact, we became obsessed with making Tri Blend Select taste amazing while keeping it naturally-sourced.
634 kJ per serving
20g protein per serving
6g fibre per serving
Vitamin C and 7 key minerals
Suitable for vegans
Gluten free
No preservatives or GMOs
Details
Tri Blend Select is sold in 600g pouches containing approx 15 servings.
Mix 3 scoops (40g) of Tri Blend with 250ml of water and shake or blend until smooth. Adjust the liquid amount for the consistency you require.
Tri Blend is available in one flavour:
Enjoy this product within a balanced and varied diet, as part of a healthy active lifestyle.