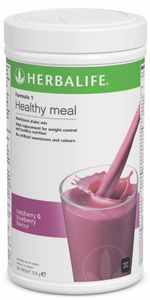 Making a Great Shake
Make the perfect shake every time!
About Formula 1
The Formula 1 Shake healthy meal is Herbalife's flagship product. It comes in the form of a nutritional shake providing the nutrients, protein and complex carbohydrates your body needs, with a low calorie count to assist weight control.
When combined with Formula 2, Fibre and Herb, and Personalised Protein Powder (to personalise your protein intake), you have everything you could want from a perfect healthy meal.
The Formula 1 shake mixture is incredibly versatile and can be mixed in almost anything. It is available in seven different flavours in either single-serving sachets, or canisters containing about 30 servings.
Measurements
One serving of Formula 1 is around 26 g.
2 large scoops (28 cc x 2) using our Herbalife-branded measuring spoon!
1 sachet if you're using Formula 1 Sachets
Instructions
Mix 1 serving of Formula 1 in 250 ml of semi-skimmed milk.
Soya milk
Soya milk is a healthier alternative to regular cow's milk, and doesn't cause the stomach problems many people have when they aren't used to drinking cow's milk in large amounts.
Protein Drink Mix
Alternatively, use water and our Protein Drink Mix as a creamy base and skip the milk entirely — just 250 ml of water and add 1 medium scoop of PDM instead to make a delicious creamy shake, and you'll no longer need to stock up on soya milk at the supermarket!
Personalised Protein Powder
To ensure you're getting the right amount of protein for your body size, we offer Personalised Protein Powder. This lets you top-up your shake with a personalised amount of protein before you mix it.
Mixing
Blenders
Blenders are the perfect way to mix your shake. Leave it running slightly longer than necessary as this thickens up the mixture.
We strongly recommend Hinari Genie Bullet Blenders to anyone making shakes regularly. You can make individual shakes without extra washing up, as you blend the shake straight into the cup!
Shakers
If you don't have a blender or you're out and about, you can use one of our Super Shakers. Shake for 30 seconds, ideally leave to stand for about ten minutes, and give it another quick shake before drinking. This will really thicken the shake.
...or try something different
Add the shake mix to yoghurt to create a nutritious treat (cookies and cream flavour is delicious in yoghurt!).
Related products

Herbalife Super Shaker
The best shake in the world deserves the best shaker in the world! With our innovative whisk ball and two screw-on compartments.

Formula 1 Shake Nutritional Meal-Replacement Shake
A healthy and delicious soy-protein based shake, with added vitamins and minerals. Available in eight flavours.

Formula 1 Sachets Nutritional Meal-Replacement Shake
The original healthy meal-replacement shake mix now in convenient single-serving sachets. Seven sachets per pack.

Herbalife24™ Formula 1 Sport Nutritional Meal-Replacement Shake
Balanced with carbohydrates, dairy proteins, vitamins, and minerals, Formula 1 Sport establishes a solid nutritional foundation for performance while being convenient to consume.