Formula 1 Sachets
Nutritional Meal-Replacement Shake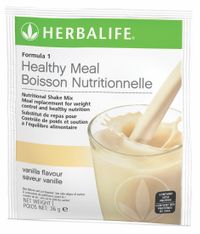 It goes without saying that to be at your best it helps to be in tip-top shape. To kick-start the new you, this ultra-convenient sachet, available in two delicious flavours, is ideal for those on the go. Slip in an individual sachet, or two, into a pocket or bag so you have no excuse not to continue with your chosen daily health regime.
Simple to prepare, each sachet delivers the correct serving and same nutritious benefits found in a Formula 1 Shake canister, so you get to manage your health and wellbeing choices wherever you are, whenever you want.
Single sachet serving.
Portable and convenient.
Details
Formula 1 Sachets are sold in sets of seven single-serving sachets, and are available in one flavour only:
For further information about Formula 1, please see the Formula 1 Shake page or the Making a Great Shake Guide.
Herbalife weight-management and nutrition programmes are intended for use as part of a healthy diet in conjunction with regular physical activity. It is important to maintain adequate fluid intake. Weight control is achieved with a calorie-controlled eating plan. Only Formula 1 can be used as a meal replacement for weight control, all other products are food supplements and supporting products.
Product accessories

Shaker Starter Kit
A starter kit for Herbalife programmes including a shaker, tape measure, tablet box and measuring spoon.

Herbalife Super Shaker
The best shake in the world deserves the best shaker in the world! With our innovative whisk ball and two screw-on compartments.
Related products

Formula 1 Shake Nutritional Meal-Replacement Shake
A healthy and delicious soy-protein based shake, with added vitamins and minerals. Available in eight flavours.

Formula 2 Vitamin & Mineral Complex
Formula 2 Vitamin & Mineral Complex is your easy route to 24 nutrients to support what your body needs.

Formula 1 Bars Nutritional Meal-Replacement Bars
A convenient alternative to the Formula 1 Healthy Meal Shake for when you're out and about and on the go.